I'm gonna break the internets. Or, maybe, my Photobucket account.
Backstory: I wanted to do something for
Porn Battle IX
, and
Trin
suggested I do something for the "tattoo" prompt. That fused immediately in my brain with something that
22by7
and I have been discussing, re: sigils and tattoos and angelic armor, only it's something that really lends itself to art, not words. So, I went hunting for mostly-unclothed Misha caps, which are
distressingly few in number
I might add, and scrounged up some stills from that very marvelous ER scene involving extensive shirtlessness.
And I kind of decided to post a few of them here, as a small detour from my Porn Battle art. So, uh, here.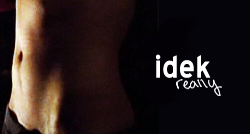 ( DON'T EVEN KNOW, YOU GUYS )