Yes, post of random!
The
next challenge
is up at

artword
, and is ASTRONOMY, inspired by NASA's
photos of the day
. In the manner of cosmic matter into a black hole, I have been sucked into the archives and have spent a lot of time wishing for a spaceship, and remembering when I wanted to be an astronomer.
Living in central Florida as I did, NASA was a big part of my life--lots of field trips, and shuttles or rockets going up were always news. My first clear memory of joy or tragedy beyond my family was when
Challenger
exploded in 1986; I can very clearly recall standing in the kitchen, watching the shuttle break apart on our tiny TV, and realizing this was something way past my previous experiences. My dream for the future is to live in a place with no light pollution, and a telescope. (Which explains a bit of why I wrote
this
for

mcsmooch
.)
Speaking of writing,
( cut for viking!boys and poll! )
Also, I just took this and I love my silly black dog: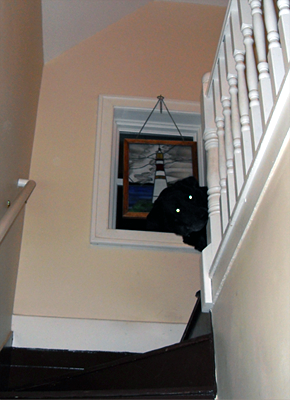 dogeared points out that Finn is asking "Whut r u doin?"