I really haven't been tormenting
Amber
enough lately, since I'm only peripherally involved in
Generation Kill
and anything vampire-related inspires annoyance that overpowers the hotness that is Alexander Skarsgard. This is an attempt to make up for it.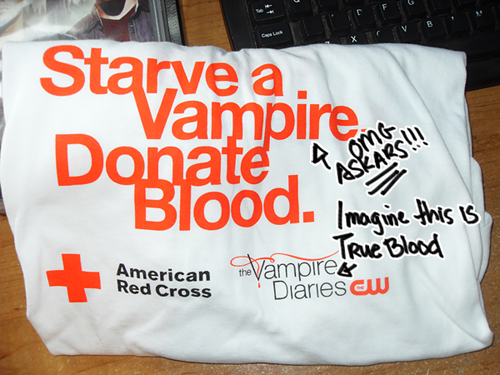 Backstory: I went to donate blood today. (Good news: I am no longer borderline anemic! This is a Relief for me.) After donating, I got some juice and pretzels (handed to me by a nice young man in fatigues; the blood drive was organized by the campus ROTC), and my choice of t-shirts: a boring old "I donated blood to the Red Cross"-type one, and this one. As you can tell, I picked this one.
Fannish stuff that is pleasing to me today
Let's just walk for a while
(John/Rodney, PGish) by
steammmpunk
. Her drawings make my soul happy, so clean and crisp.
New comm!
MOOSEBUTTHONEY
(hahahaha, I said "moosebutt") follows the adventures of beekeeper!John and chef!Rodney, who must put up with Radek and his quail-centric fantasies. I think we all know by now that the team does well in ANY AU you care to plunk them into, but they are especially tasty here.
( bunches of SPN links )
in other news:
I'm kind of wired right now, as you may be able to tell. I really need to settle down. Between fandom and kind-of cheerful prospects in RL, though, it's hard.